What is Web Hosting Pad?
WebHostingPad is cheap.
Like under two bucks cheap.
Founded in 2005 by a small group of individuals, it has grown steadily now for over a decade on the back of low prices.
But is that… ALL they're good for?!
To find out, we purchased a Web Hosting Pad "Power Plan" back in June 2015, setting up a basic WordPress website
Over the past few months, we've been closely watching their performance statistics like uptime & speed, in addition to doing our own background analysis to find out if WebHostingPad is a steal at their low prices, or a train wreck waiting to happen.
Read our full unbiased review below to find out which is true.
PROS of using Web Hosting Pad
WebHostingPad has a few things going for it besides a low price. Starting with…
1. Decent Customer Support
Our own personal experience with WebHostingPad was pretty good.
Their support staff connected instantly, and they got back to us within about a minute after each question. In addition, each answer was well informed (so it seems like they know what they're doing over there).
Not the best experience we've had among all we reviewed, but pretty good nonetheless.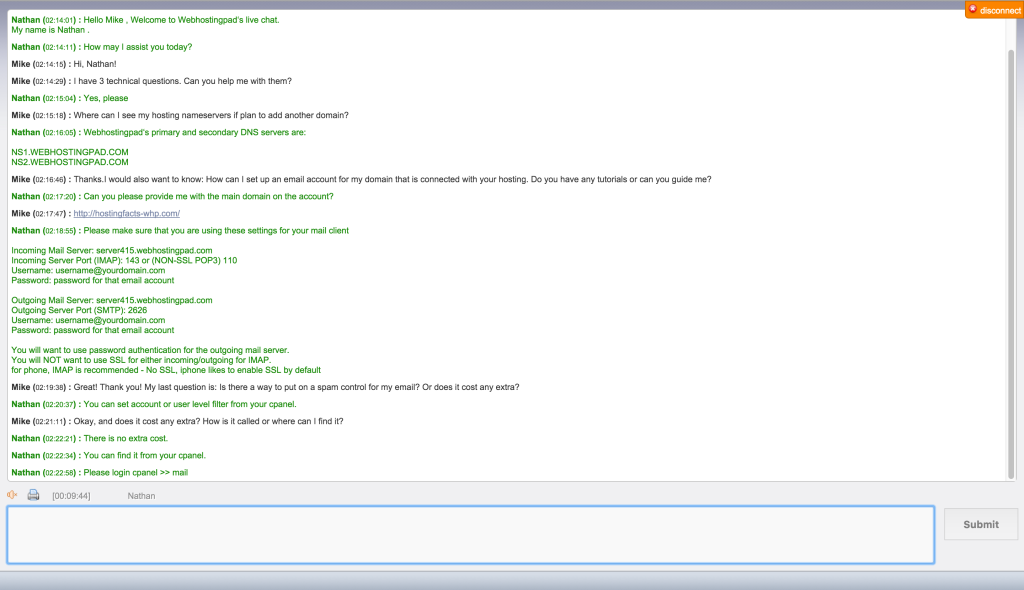 As with most web hosts, however, there are very mixed reviews about WebHostingPad's customer service response.
"My email to an address at verizon.net continues to bounce. I've filled out two support tickets, but no response. Why can't I get this resolved?"
"Hi, can you please let us know what time the live technical support works please – as we tried it when the system said it was online – but then it decided you were offline after all – and told us to send an email message which has not yet been answered. Many thanks"
"Hi, I've had issues with my website going down but your support team tells me that it's fine and there are no problems. I'm really not getting the help I think I should be and I'm definitely an unhappy customer. Can someone help me please and show me that you do care about your customers?"
"My website is down and I cannot reach anyone in customer service. On the phone, it says to leave a message but then says "sorry but the user mailbox is full". It also suggests using live chat but when I do that it disconnects me and says no online agents are available. So, I've emailed a ticket. I'm just wondering what's going on and I'd like to resolve this promptly. Thanks."
2. Unbelievably Cheap
WebHostingPad does have one great thing going for it.

They're cheap.
With the exception of iPage's not-so-secret, slimmed down Essential plan, it's among the cheapest options available to you.
Chances are, there's a reason it's so cheap (which you'll find out below under the 'cons' list). But if the price is your only concern, look no further.
3. Strong Money Back Guarantee
WebHostingPad has a rock-solid, 30-day money back guarantee if you don't find their services reliable.
4. Security Enhancements
Typically, the cheapest options available are also limited when it comes to the 'extra' stuff like security options. Fortunately, WebHostingPad isn't, throwing in Automated Malware Scanner and Malware Quarantine for their WordPress hosting plans.